Generate Hundreds Of Organic Leads From Your Existing Channels
And Make Your Paid Budget Disappear!
RYPL.io™: The Weapon of Mass Conversion
Activate organic influence
Create Indirect Referrals
The most valuable asset you own in your B2C business is your existing audience.  The larger your audience, the easier it is to generate revenues.  So it makes sense to constantly grow your audience, which is comprised of your owned media like customers, subscribers and social followers – and your paid media, for example, acquisitions from paid ads.
Every subscriber or lead you have acquired for your business is connected to one or more social communities filled with like-minded friends or colleagues who have similar interests.  If they're into sports, they will have hundreds of connections to other folks who are into sports.  If they support a certain cause, they will have connections with other likeminded people that would be the right profile to support that cause.  Tap into these extended relationships and communities by activating 'organic influence' within your existing paid and owned audiences.  Organic Influence is at the heart of every viral campaign – and happens when a direct relationship you have is motivated to share exciting content or offers from you, as a post or message on their preferred social network or messaging platforms.  This creates indirect referrals from within their audience – that convert to direct acquisitions for you.
"This Is The Growth Hack Model Used by Dropbox™ to Build Their Massive Audience!"
Leverage Your Existing Audience
Using RYPL.io™'s unique yet simple Amplification Technology, you can activate any audience you have access to, creating a large army of organic influencers who become a strong referral channel that will exponentially increase your reach to qualified prospects you otherwise may have never reached.  Each new acquisition becomes an additional organic influencer, giving further and deeper access to even greater reach.
Every organic influencer is automatically digitally connected to their direct referrals, who are then connected to any of their referrals that are indirect to you, creating a visual genealogical map and providing invaluable ancestral network relationship metrics unavailable anywhere else.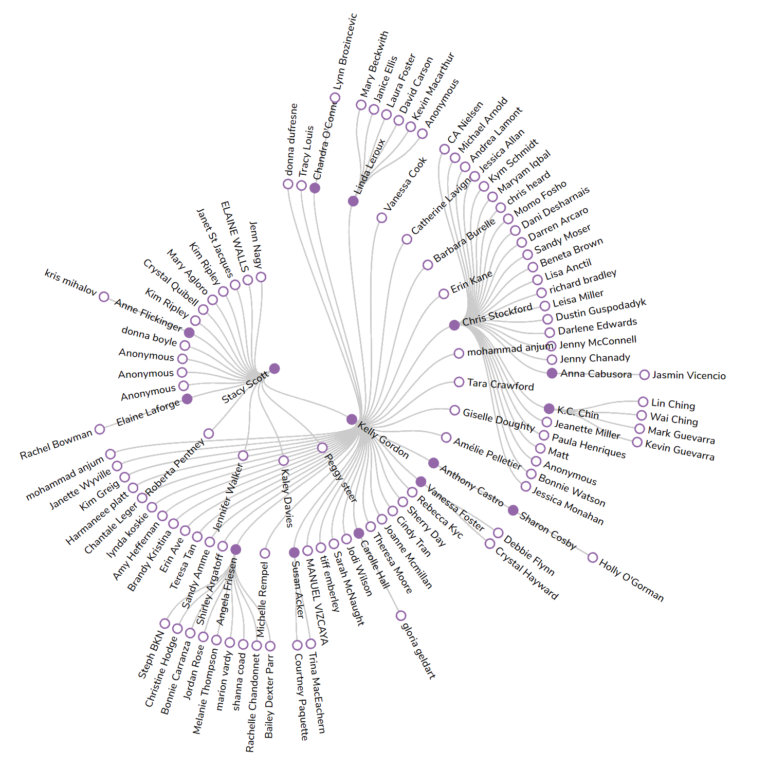 Like cream that rises to the top, RYPL.io™'s unique viral tracking technology allows you to identify your strongest organic influencers, empowering you to do things like having an Influencer Program without the cost, or creating a powerful qualified Ambassador Program.  You will also be enabled to discover the most effective sharing channels that drive the strongest results for your space.
And because these acquisitions are all referrals, they will significantly drive down your overall cost of acquisition, allowing you to grow your audience with qualified leads much faster, for much less than a traditional paid acquisition program on its own would cost.
Amplification Drives CPA Down Exponentially!
Pay less to get exponentially more qualified customers!
Take a test-drive – on us!  That's right – we're not even going to charge you for your first 15-day campaign!  Simply create your meaningful incentive (we can provide direction) and then we'll send you a tiny script to add to your marketing site.  After the initial campaign is completed we will review the results together, and if you like the results, you can run as many campaigns as you wish – and only ever pay for the Direct (1st-Level) Referral Acquisitions that RYPL.io™ drives in.
Here's the pricing breakdown:
Your owned media audience (including paid acquisitions) is activated as an influencer channel or channels.  Any Direct Referral Acquisitions from your owned media channels are a single CPA charge.  Any Indirect Referral Acquisitions resulting from those Direct Referrals are all no charge.  That's right – their FREE!
For example, if a single owned media channel audience member shares and that share generates 5 direct referral acquisitions, who then influence 3 indirect referral acquisitions each (15), who then further influence 2 indirect referral acquisitions each (30), you'll only pay for the 5 direct referral acquisitions, and the additional 45 indirect amplified acquisitions are free of charge!  Let's say your direct referral CPA charge is $25 – this would mean you'd pay $125 for the 5 direct acquisitions ($25×5).  But because you actually generated a total of 50 acquisitions (5+15+30), your CPA would actually be reduced to $2.50 ($125/50).
Everyone starts at Tier 1. As your Direct Referral Acquisition (DRA) budget reaches the first threshold, your DRA cost is reduced should you decide to spend more on the campaign. At each new tier, the DRA continues to decrease.
*Remember: Every single Direct Referral produces multiple Indirect Referrals – and all Indirect Referral Acquisitions are free!
Indirect Acquisitions FREE
Indirect Acquisitions FREE
+1,000 Direct Acquisitions

Indirect Acquisitions FREE
+2,500 Direct Acquisitions

Indirect Acquisitions FREE
+10,000 Direct Acquisitions

Indirect Acquisitions FREE
CPA = Cost Per Acquisition
DRA = Direct Referral Acquisitions
IRA = Indirect Referral Acquisitions
What Happens If I Go Over Budget?
You can cap your spend so that you don't go over budget. Once you reach your direct acquisition referral budget cap, your Channel-driven campaigns are stopped but your amplification campaign will continue for the duration of the campaign, typically 30-days. This means you get to keep generating indirect referral acquisitions even after you've reached your direct acquisition referral budget cap.
*TIP: The more exciting the incentive is that you offer, the more sharing you will generate. The more sharing that happens, the more indirect (free) referrals you will acquire.
Let's Get Started!
We believe in the 'hands-on' approach and strong campaign support to get the most out of every campaign. That's why we do all the heavy lifting. This allows for a campaign to be set up, tested and running live within as low as 24 hours! Simply click the button below, fill in and submit the form, and we will reach back to set up a time to chat and discuss the details of your campaign.
"RYPL.io™ is to Social what Google is to Search!"
Here Are Just A Few Examples of Use-Cases That Amplify Very Well
E-Comm Stores (Shopify, Woo-Commerce, Wix, SquareSpace, etc.)
Points / Rewards Programs
Affiliate Programs
Concerts & Shows (Movies or Live Theatre)
Sports Events
Rallies
Review Sites (Yelp, Yahoo, Google, etc.)
Paid Digital Ads (Google, Facebook, etc.)
Stigma Products (420, etc.)
What Makes The RYPL.io™ Platform Unique?